It is a different era, and the way investors receive and more importantly react to information has changed.  While press releases are still standard, Elon Musk has shown all it takes is a simple tweet to move markets.
Allied Energy Corporation (OTCMKTS:AGYP) is a prime example. The company has released two bite sized yet impactful updates via their Twitter Feed and investors are taking notice.
The first tweet came Tuesday and was an update on why things have been so quiet for the company recently.
The rain makes it hard for explorers like AGYP to transport vehicles and other equipment to their sites. However, the weather has cleared up in North Central Texas, and AGYP provided investors with another update Thursday.
The update regarding the forthcoming installation of 2 triplex pumps on their Gilmer lease salt water injection wells is promising news.
With the weather looking clear, this could be a drop in the proverbial bucket.
Judging by the recent price movement, investors are counting on it.

AGYP hit support at 25 cents earlier this week, and for the past 4 sessions has had higher lows building toward what could be a breakout. If the momentum is strong enough, the sizable short position in the company could start covering causing a short squeeze.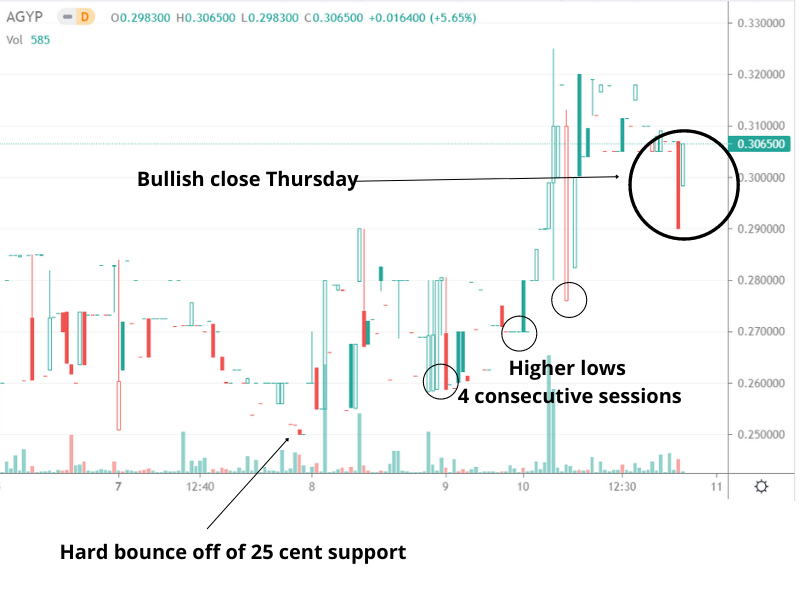 AGYP isn't AMC, but it's worth watching.
Allied Energy's Annie Gilmer lease is in the small community of Crystal Falls, Texas on the banks of the Clear Fork of the Brazos River, approximately thirty miles north of the town of Breckenridge, Texas. There are a total of five wells drilled on the lease, that is approximately 300 acres. There are five wells on the lease that were drilled to the Mississippi formation that is encountered at approximately 4100′ below the surface of the earth. The Mississippi formation, when caught on good geologic structure can produce prolific oil and gas cumulative numbers. There were six wells drilled on the lease starting in the mid 70's with the last being drilled in 1989. Since the initial well, the lease has produced over five hundred thousand (500,000) barrels of high gravity oil and over five hundred million (500,000,000) cubic feet of very rich natural gas. There are two permitted saltwater injection well on the lease. One of the injection wells will be re-converted to an active oil and gas producer.
This is one of 4 major projects the company is currently working on.
One thing is for sure, it would appear management has a solid communication strategy in place which can only help the building momentum.